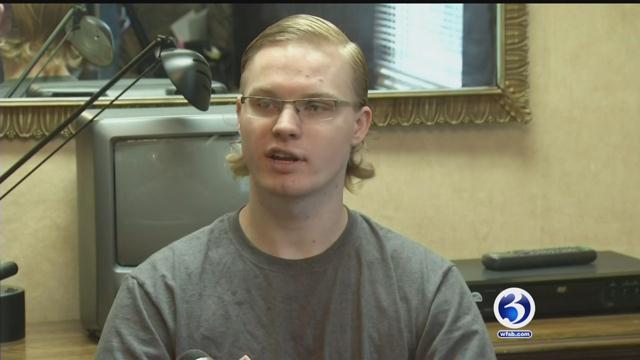 Austin Haughwout and his father have o testify under oath and hand over documents about weaponized drones shown in YouTube videos. (WFSB file photo)
NEW HAVEN, CT (AP) -
A federal judge has ordered a Connecticut father and son to testify under oath and hand over documents about weaponized drones shown in YouTube videos firing a gun and deploying a flame thrower in their backyard.
Judge Jeffrey Meyer in New Haven ruled Monday in the case of 19-year-old Austin Haughwout, of Clinton, and his father, Bret Haughwout, who have both refused to comply with Federal Aviation Administration subpoenas.
The Haughwouts' lawyer argued the subpoenas violate his clients' constitutional rights and questioned the agency's authority to regulate recreational drones.
The FAA says the subpoenas are part of a legitimate investigation into potential violations of its regulations banning people from operating aircraft in a reckless manner.
The judge ordered the Haughwouts to comply with the subpoenas within 30 days.
Copyright 2016 The Associated Press. All rights reserved. This material may not be published, broadcast, rewritten or redistributed.