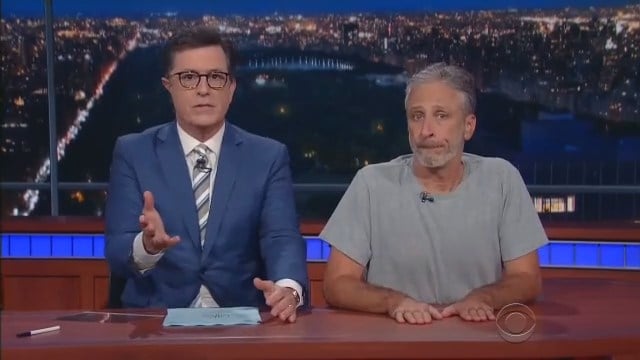 Stephen Colbert was joined by Jon Stewart Thursday night. (CBS photo)
(WFSB) -
It wasn't all comedy when Jon Stewart appeared on the Late Show with Stephen Colbert Thursday night.
Stewart joined his former Comedy Central colleague to not only poke fun at the Republican National Convention, Donald Trump and the downfall of Fox News CEO Roger Ailes, but to add a little spice.
Colbert began the segment by indirectly admitting his joy that Ailes resigned as Fox News' CEO. Ailes was accused of sexual harassment.
"If only there were someone to share this lack of pleasure with," he joked.
That's when Stewart appeared from under his desk, where he said he was "sleeping."
He opened by poking fun at the convention. He referenced the Rio Olympics and how he enjoyed the gymnastics portion, specifically the contortions many conservatives did to embrace Trump.
Stewart then criticized Fox News host Sean Hannity's stance on a number of issues ranging from teleprompters to elitism. The bit lasted about 10 minutes.
He ended the rant with a line about divisiveness.
"Those fighting to be included in the ideal of equality are not being divisive," Stewart said. "Those fighting to keep those people out are."
Copyright 2016 WFSB (Meredith Corporation). All rights reserved.