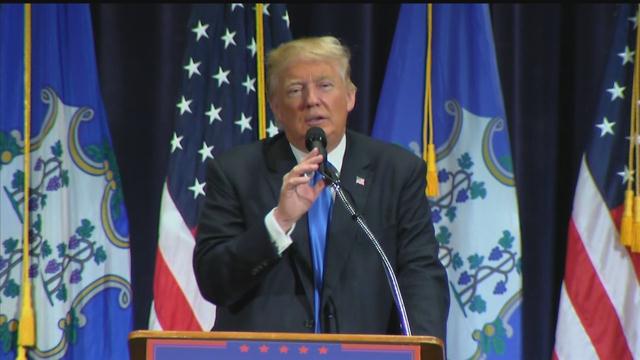 Donald Trump visited Connecticut ahead of the state's primary. (WFSB file photo)
HARTFORD, CT (AP) -
State delegates to the Republican National Convention say GOP presidential nominee Donald Trump's convention message will resonate with Connecticut voters in Novembers.
House Minority Leader Themis Klarides said Friday the billionaire businessman successfully made it clear that his positions on issues won't always jive with the national party platform. She says those moderate positions are more in line with Connecticut Republicans, who are typically less conservative than other parts of the country.
Klarides says Trump set a statesman-like tone in his convention address, stressing "he will not tolerate people being treated differently and will only tolerate fairness for all."
Connecticut GOP Chairman JR Romano says Trump could win Connecticut with his message of wanting people to be proud of America again. He says Connecticut voters are particularly frustrated.
Copyright 2016 The Associated Press. All rights reserved. This material may not be published, broadcast, rewritten or redistributed.