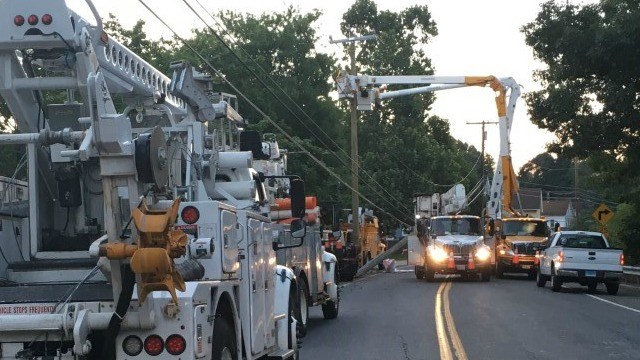 A car struck a utility pole which knocked out power to 990 Eversource customers early Monday morning (WFSB).
MANCHESTER, CT (WFSB) -
An early morning crash knocked out power to nearly 1,000 homes and businesses in Manchester.
Eversource officials said power has been restored to all but 13 customers.
Police told Eyewitness News that a car struck a pole at 12:45 a.m. Monday on Charter Oak Street near the entrance ramp to I-384.
Investigators said Charter Oak Street remains closed early Monday morning.
According to Eversource, power to the remaining 13 homes and business will be restored around 6:45 a.m. as crews replace poles.
Police said no one was seriously hurt. The cause of the crash is under investigation.
Copyright 2016 WFSB (Meredith Corporation). All rights reserved.