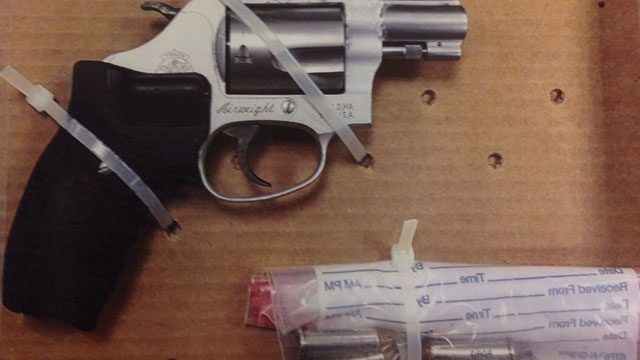 The following items were seized by police during a trespassing arrest. (Hartford Police Department)
HARTFORD, CT (WFSB) -
Three men were arrested after police said they were trespassing on a Hartford property and in possession of a handgun.
Officers spotted three people in the area of 30 Auburn St. When "suspects made visual eye contact with the officers," police said they fled the area.
The three men were arrested a short time later. Police charged 18-year-old Shawn Powell, 24-year-old Gerard Givens and 26-year-old Calvin Moreland with third-degree trespassing and carrying a pistol without a permit. Givens and Powell, who are both multiple convicted felon, was also charged with criminal possession of a firearm.
Police seized one 38 caliber, Smith&Wesson revolver and five .38 caliber rounds during the investigation.
Copyright 2016 WFSB (Meredith Corporation). All rights reserved.