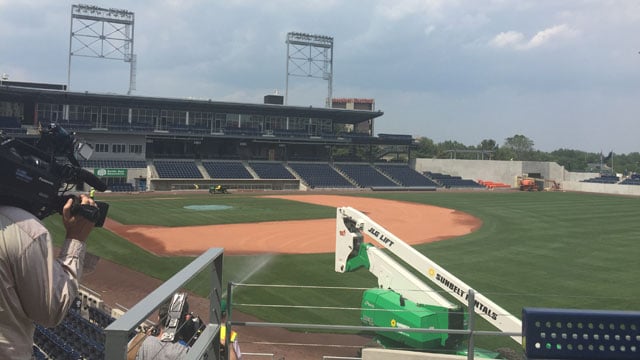 Dunkin' Donuts Park. (WFSB photo)
HARTFORD, CT (WFSB) -
The Yard Goats could skip town if the stadium is not ready for the 2017 season.
The team's owner sent the city of Hartford a letter this week saying 'finish the stadium or we are out.'
Dunkin Donuts Park still sits unfinished.
The park still needs railings, stairwells and signs to be completed.
The city fired the stadium developer CenterPlan.
The insurance company has now taken over the project.
The team has a 25-year contract with the city, but without a stadium, Hartford is not holding up their end of the deal.
The team's owner Josh Solomon released a statement that said "The Yard Goats love Hartford and we remain committed to the city. We will do everything in our power to make sure baseball is played at Dunkin Donuts Park in April 2017. We simply cannot continue to exist without a home in 2017."
Copyright 2016 WFSB (Meredith Corporation). All rights reserved.