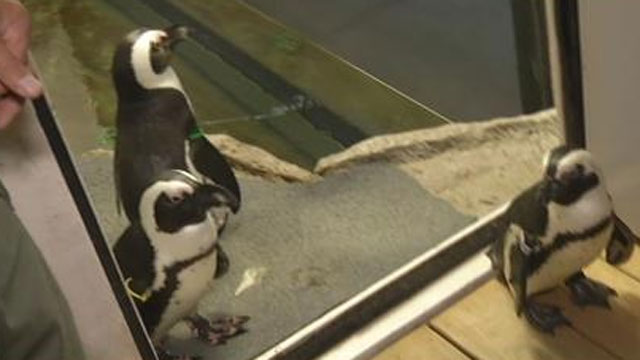 Animals at Beardsley Zoo are trying to stay cool. (WFSB)
BRIDGEPORT, CT (WFSB) -
As the heat wave continues Thursday, animals at local zoos are trying to stay cool.
Channel 3's Kim Lucey spoke with zookeepers about the creative ways they help keep the heat under control.
Beardsley Zoo director Gregg Dancho said the weather gets uncomfortable for them.
He showed off the zoo's two bison Dakota and Sweet Pea, who have patches of their winter fur left.
"As you can see, Dakota shedding off their winter fur. It's taking him a little time to get his winter fur off, but that's to cool them down a little bit," said Dancho.
However, Dancho said that's not the only way the animals cool off.
"But to do a little bit more for them, we set sprinklers in the yard so as it gets really oppressively hot, we'll have water shooting in the yard which cools down the temperature quite dramatic," said Dancho.
During the dog days of summer, these animals clearly need more than just a shady spot to sit in.
The zoo is open from 9 a.m. to 4 p.m. on weekdays. More information on exhibits is available here.
Copyright 2016 WFSB (Meredith Corporation). All rights reserved.