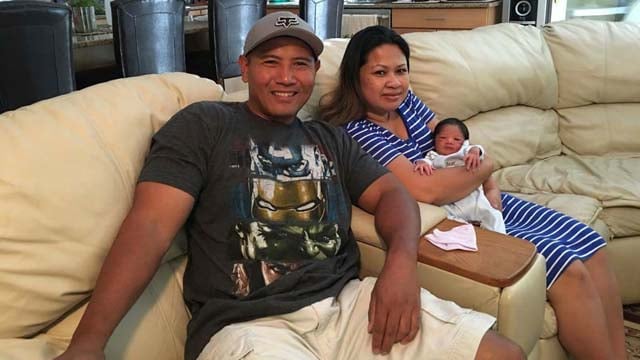 This couple welcomed a new baby, with the help of state police over the weekend. (submitted)
BETHANY, CT (WFSB) -
State police in Bethany helped deliver a baby in their parking lot over the weekend.
Troopers said they were called early Saturday morning. The caller said a mother was in labor while on her way to the troop.
Mother Sorsamlane Borivong and her husband Somp Borivong pulled into the parking lot a few minutes later.
Troopers said they grabbed some medical supplies and rushed out. They delivered the baby in about 5 minutes, just before the ambulance arrived.
"I've never actually seen a baby born, actually in front of the Troop, right here pretty much where we're standing," said Sgt. John Castiline, state police. "So it was pretty amazing to see that happen."
While Castiline said his training from the academy kicked in, he gave most of the credit to a fellow trooper.
"You're always nervous about stuff like that," Castiline said. "But in this situation it happened, so fast that there wasn't really too much time to worry about that."
Castiline said all stayed calm during his first delivery. Eyewitness News has been told that mother and baby are doing well.
Copyright 2016 WFSB (Meredith Corporation). All rights reserved.