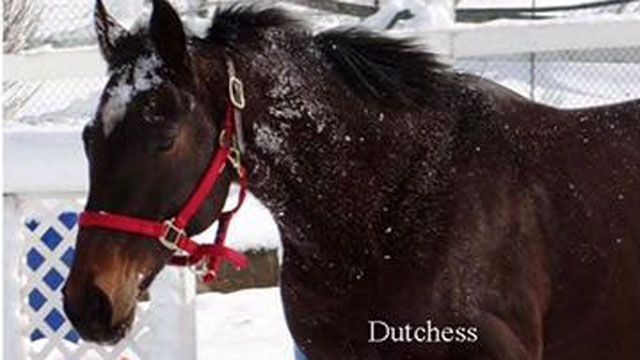 The owner of the horse called Dutchess is asking for public's help locating her. (Horse Find Network)
COVENTRY, CT (WFSB) -
One rider is asking for the public's help locating a missing horse that was last seen in a state park in Coventry on Sunday afternoon.
After unseating her rider, Dutchess, which is a 15-year-old light bay thoroughbred, took off at Hop River State Park Trail around 3 p.m. The animal was last seen running in a south east direction.
Dutchess is about 15.2 hands tall and has a white start, right front and left hind pastern as well as left hind coronet. She was wearing a leather bridle, English saddle and red saddle pad.
Anyone who spots Dutchess is asked not to chase the horse. The horse is friendly, but is clearly "spooked and afraid."
Anyone with any information is asked to call Tara Farm Rescue at 860-729-4317 or 860-634-4782.
Copyright 2016 WFSB (Meredith Corporation). All rights reserved.