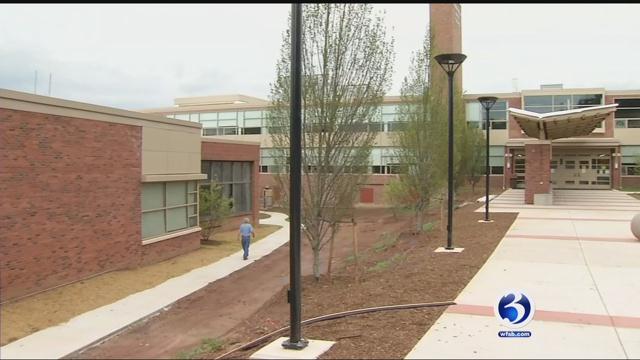 Asbestos found at Wetherfield High School pool. (WFSB)
WETHERSFIELD, CT (WFSB) -
A setback for the $85 million- renovation project for Wetherfield High School after asbestos was found in the pool area.
Eyewitness News looked how the issue of asbestos at Wetherfield High with how this will affect the upcoming school year.
The school will be open for classes as scheduled, but it will be months before students have access to the pool area.
Renovations on the sixty old school started three years ago. Earlier this year, Eyewitness News obtained photos taken from students. The pictures showed the condition in parts of the school, exposed ceilings and hanging wires.
Some students said they began having health problems after construction began on the school. Now with this latest asbestos find in the pool area, Wetherfield High School Principal Tom Moore discussed any health risks to students.

"It's an issue wasn't something we expected, we will have to change our curriculum because freshman students all take swimming as their physical education requirement and then also we will have to make adjustments for our girls swimming team which has their season in that fall," Moore said. "Our first priority is the safety and security of our students so they are not close to any type of hazard."

The cost to remove the asbestos is about $419,000. Moore said while significant, the unexpected costs were anticipated when budgeting for the renovation. The pool is expected to be open by December.
Copyright 2016 WFSB (Meredith Corporation). All rights reserved.