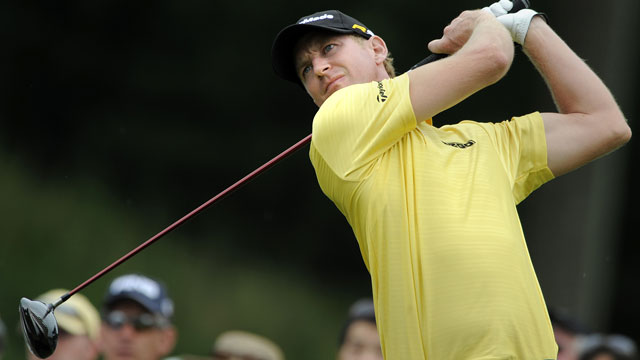 Vaughn Taylor hits his tee shot on the 18th hole during the third round of the Travelers Championship golf tournament in Cromwell, Conn., on Saturday, June 26, 2010. Taylor finished the round in third place at 11-under par. (AP Photo/Fred Beckham)
CROMWELL, CT (AP) -
Jerry Kelly played off the emotion of what he considers a home crowd Thursday in the Travelers Championship, shooting a 6-under 64 for a share of the lead with Vaughn Taylor and Andrew Loupe.
The 49-year-old Kelly played at the nearby University of Hartford. Headed to the PGA Tour Champions after this season, Kelly won the last of his three PGA Tour titles in 2009.
Loupe and Taylor went out early, when relatively soft greens and little wind helped the scoring.
The biggest galleries of the day showed up to watch U.S. Olympians Bubba Watson (67), Matt Kuchar (69) and Patrick Reed (70). They went out as a trio and were serenaded with chants of "USA! USA!"
Copyright 2016 The Associated Press. All rights reserved. This material may not be published, broadcast, rewritten or redistributed.