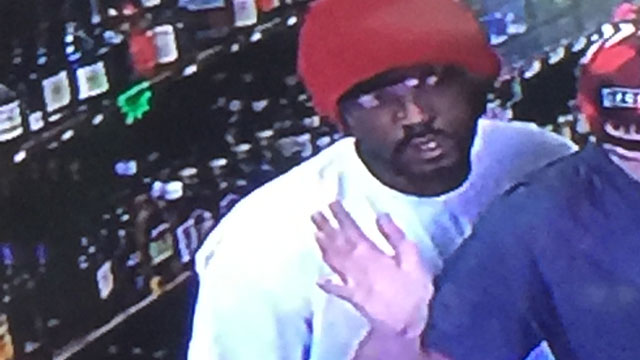 New Haven police released this photo of the suspect in an armed robbery.
NEW HAVEN, CT (WFSB) -
The New Haven Police Department is trying to locate a man wanted in connection with an armed robbery at a liquor store in the Elm City on Monday afternoon.
The armed robbery took place at the Middletown Package Store, which is located at 417 Middletown Ave., around 4:30 p.m. Police said an unidentified man entered the store, "rushed the clerk and demanded money from the cash register."
Police determined that the suspect was not armed with a gun, but had "something cylindrical" such as a flashlight pushed into the victim's side.
Police said the man took more than $800 and three packs of Newport cigarettes before fleeing the store.
The suspect was described as 5'8" and weighs 150 pounds. Police said the suspect's hair was braided or had dread-locks.
Police said during the robbery, the suspect wore a white shirt with a "Rings End" logo on it as well as a red cap, dark colored pants and brown work boots. He also was believed to be wearing eyeglasses or safety glasses.
Police released surveillance photos to the media.
Anyone with any information about the armed robbery is asked to call the New Haven Police Department's Robbery – Burglary Unit at 203-946-6304.
Copyright 2016 WFSB (Meredith Corporation). All rights reserved.