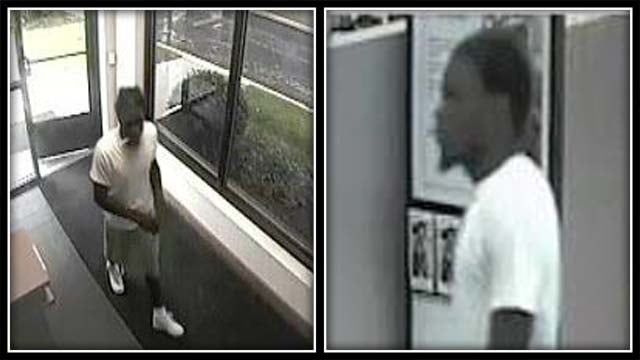 Milford police are searching for a man accused in an armed robbery (Milford Police)
MILFORD, CT (WFSB) -
Milford police are searching for a man accused in an armed robbery that happened at the People's United Bank on Wednesday.
Police said the man walked up to two men in a rear parking lot, at around 11:20 a.m. and demanded money.
The suspect showed a pistol concealed in his pocket, and after he received money he fled the scene on foot.
Surveillance footage shows the suspect possibly getting into an older model green four-door sedan.
The suspect was wearing a white t-shirt, grey shorts and white sneakers.
Police said the suspect is believed to have seen one of the male victims make a bank transaction and waited for him out into the parking lot.
Anyone with information should contact police at (203) 878-6551.
Copyright 2016 WFSB (Meredith Corporation). All rights reserved.