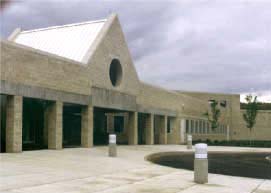 A woman attempted to escape from York Correctional Institution. (WFSB file)
NIANTIC, CT (WFSB) -
A 25-year-old woman attempted to escape from York Correctional Institution in Niantic on Thursday afternoon.
A woman, who was later identified as Watertown resident Nicole Goldin, was attempting to scale the perimeter fence of the York Correctional Institution around 2:20 p.m., according to Connecticut Department of Corrections.
DOC officials said they "implemented" emergency protocols and state police were called about the attempted escape.
"As a result of the swift actions of the correctional staff on duty, the offender was quickly apprehended," DOC said in a statement on Thursday.
DOC officials said Goldin did not "breach the secured perimeter fence, which protects the community and surrounds that portion of the facility property."
There were no reported injuries.
Goldin is on a $20,000 bond for criminal violation of a protective order. She has been in custody since July 21.
The DOC is investigating the attempted escape. The York Correctional Institution "remains on lockdown status," DOC said.
Copyright 2016 WFSB (Meredith Corporation). All rights reserved.