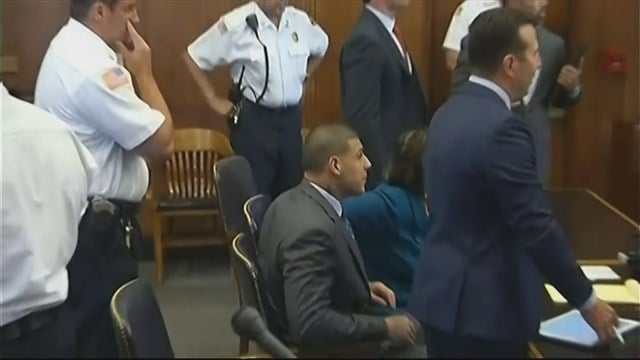 Aaron Hernandez's lawyer forgot his name during a hearing on Tuesday. (CBS photo)
PLYMOUTH, MA (CBS) -
Former New England Patriots football star Aaron Hernandez was in a court on Tuesday with a new defense team.
Attorney Jose Baez, the same attorney who helped get Casey Anthony acquitted in the death of her daughter is now representing Hernandez.
The courtroom chuckled when Baez called his new client Rodriguez instead of Hernandez.
Baez asked the judge for a 30 day extension to review evidence and witness descriptions.
Hernandez is scheduled to go to trial on Feb. 13, 2017 for the murders of two men after he allegedly became enraged because one of them bumped into him and caused him to spill some of his drink.
Hernandez has pleaded not guilty to both charges. He is now serving a life sentence for the murder of Odin L. Lloyd.
The next court date is Wednesday Oct. 5, 2016 for a status hearing for evidence inspection and filing discovery motions and forensic testing.
© 2016 CBS Interactive Inc. All Rights Reserved.