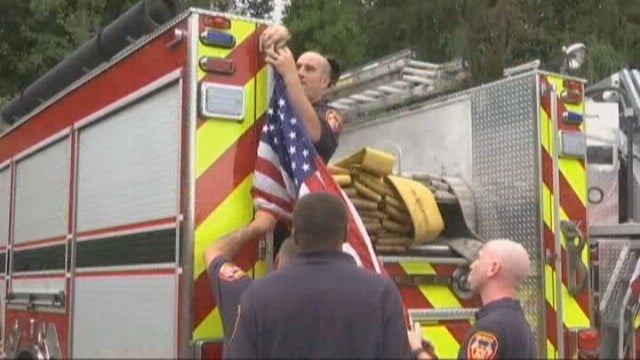 (CNN photo)
ARLINGTON, NY (CNN) -
There's backlash over an order to firefighters that forced them to remove American flags from the back of their trucks.
The order involved the removal of the flags from three trucks in Arlington, NY on Wednesday.
It came from the Board of Fire Commissioners.
The order caused a stir on social media. Many people criticized the decision.
Fire district board chairman James Beretta said it wasn't a politically motivated move.
He said the flags were a safety hazard.
"Safety concerns for our members, you know, for our firefighters getting on and off the rigs," Beretta said. "I mean they are going out to emergency situations. They need to get up stairs, there's rails, there's compartments. That sort of thing."
The fire chief and the board chairman said they're expected to meet on Thursday afternoon to find a resolution.
© 2016 Cable News Network.Turner Broadcasting System, Inc. All Rights Reserved.