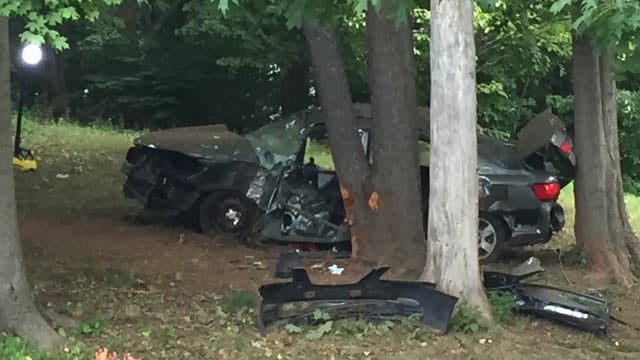 (WFSB photo)
MERIDEN, CT (WFSB) -
A passenger is dead and police are looking for a driver after a serious stolen vehicle crash in Meriden.
Police said the crash happened on Maple Avenue.
The road was closed, but reopened around 10:45 a.m.
Officers said just after 2:30 a.m., they responded to a complaint about two males "checking" cars of a residential neighborhood.
Whey they arrived to the area, one of the officers said he saw a suspect in a vehicle flee at a high rate of speed.
Afterward, police said the driver lost control of the vehicle and crashed. The crash left a passenger inside dead.
The driver fled on foot.
Police said they brought in a K9 unit to track the driver.
Investigators said they learned that the vehicle involved in the crash was stolen.
The name of the passenger has not yet been released. There's also no word on the identity of the driver.
Police called the investigation "active."
Anyone with information is asked to contact the Meriden Police Department at 203-630-6256.
Copyright 2016 WFSB (Meredith Corporation). All rights reserved.