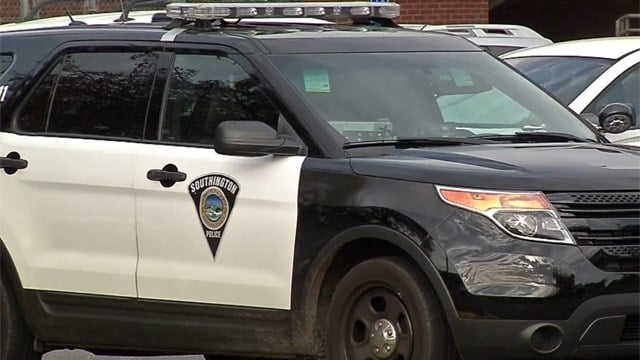 Southington police. (WFSB file photo)
SOUTHINGTON, CT (WFSB) -
Dozens of citations were issued after police were called to a popular YMCA camp in Southington.
Officers said they found a caravan of about 10 to 15 vehicles driving through the property of Camp Sloper on East Street Tuesday, just before 11 p.m.
The people in the vehicles told police that they heard there was a party at the camp through social media.
Police said that since they were all found on private property after hours of operation, they were issued infractions for trespassing.
They said the following people were cited:
Baez, Hedy, 19, Meriden
Baez, Lydia I., 19, Meriden,
Alers, Jessica, 18, Meriden
Alers, Brianna, 24, Meriden
Brown, Desiree, 19, New Britain
Carson, Terri, 18, Meriden
Brown, Jasmine Ann, 18, Hamden
Houlihan, Mia, 18, Bristol
Soucy, Katrina, 18, Bristol
Zawadzki, Evelina, 18, Meriden
Cardona, Elliana , 19, Meriden
Rossetti, Enrico, 21, Plainville
Brown, Emily, 19, Wolcott
Annenkov, Dmitriy, 22, Wallingford
Figlewski Jr, Richard, 23, Wallingford
Phillips, Adam, 24, Clinton
Abdelgani, Abdullah H., 19, Meriden
Abdelghani, Ahmed, 20, Meriden
Marcantonio, Connor, 19, Meriden
Angiletta, Tyler, 19, Meriden
Abdelghani, Belal, 19, Meriden
Boisvert, Drew, 20, Bristol
Leclaire, Taylor R., 23, Clinton
Wachtarz, Robert, 18, Chester
Martin, Jessie, 24, Farmington
Kehoe, Brian C., 25, Clinton
Skalski, Jacob, 20, Meriden
Hunter, Nathan, 21, Meriden
Sharp Jr, Toledo Noel, 20, Meriden
Forney, Gage K, 20, Meriden
Manzie, Kiana, 18, New Britain
Maldonado, Beatrice, 21, Meriden
Newkirk, Kendra, 21, Meriden
Carlson, Ashleigh, 21, Meriden
Russell, Jack, 18, Bristol
Police said they also issued a misdemeanor to 18-year-old Alejandro Ortiz of Meriden for misuse of marker plates, operating a motor vehicle without insurance, operating a motor vehicle without a license and trespassing.
"It is trespassing after hours, and obviously alcohol underage is not allowed either," YMCA Executive Director John Myers said.
Camp leaders told Eyewitness News the property was not damaged, but a few beer bottles were found on the campgrounds.
There were another eight 16 and 17-year-old juveniles found on the property. They were also cited for trespassing, according to police.
Copyright 2016 WFSB (Meredith Corporation). All rights reserved.