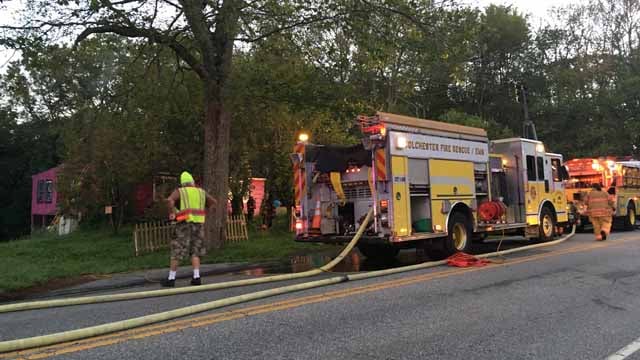 A fire broke out at a home on Lebanon Avenue in Colchester Tuesday morning. (WFSB photo)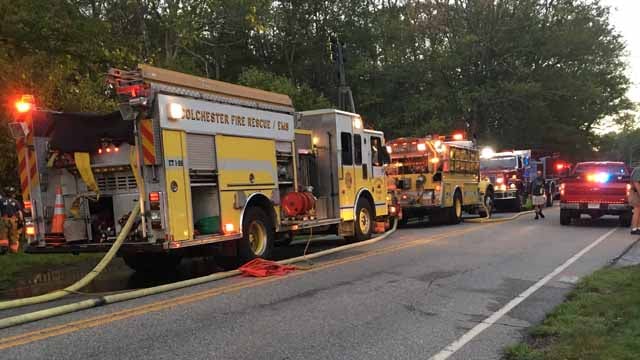 (WFSB photo)
COLCHESTER, CT (WFSB) -
Two firefighters were hurt battling a house fire in Colchester Tuesday morning.
Lebanon Avenue, also known as Route 16, is closed at Elm Street between Munn and Goldberg Roads.
According to emergency officials, the fire broke out at 429 Lebanon Ave. before 5 a.m.
Firefighters told Eyewitness News that the family of four people inside the home made it out safely. They said the home's fire detectors alerted them to the fire, which allowed them to escape.
Mutual aid from Hebron, Columbia and Colchester was called in to assist. The fire was knocked down in about 30 minutes.
"We received mutual aid here from five towns," said Deputy Chief Don Lee, Colchester Fire Department. "We're in a rural area of Colchester. We don't have any water so we received mutual aid with tankers that came in and assisted us with water supply."
Of the two firefighters who were hurt, one suffered an injured shoulder. The other hurt his back. Both are expected to be ok.
Investigators said the fire started in the second floor; however, its exact cause has yet to be determined.
Copyright 2016 WFSB (Meredith Corporation). All rights reserved.