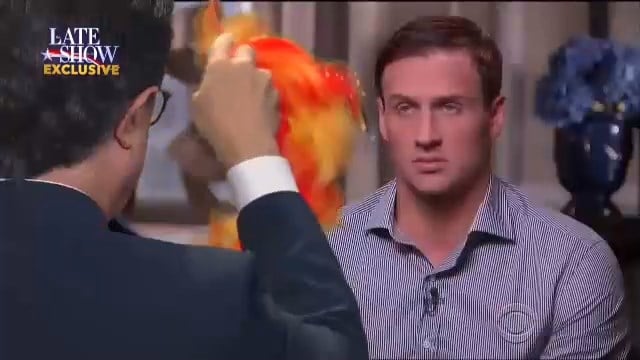 (CBS photo)
(WFSB) -
Viewers of Stephen Colbert knew he was up to something as soon as they saw the "Late Show Exclusive" graphic fade onto the screen Monday night.
Colbert, armed with a banana and a cat toy, spoofed an interview with embattled USA swimmer Ryan Lochte on The Late Show.
Many of the video-spliced answers to Colbert's questions ended with the rehashed Lochte response "I was intoxicated."
Colbert even jokingly asked of Lochte was drunk at that moment and appeared to shine a light into his eyes.
The jokes stemmed from Lochte's original story of when he claimed to have been held up at gunpoint during the Olympics.
Later, he admitted to being intoxicated after Brazilian authorities said he vandalized a Rio de Janeiro gas station.
However, he continues to claim he didn't lie about what happened. He says he exaggerated the details.
Copyright 2016 WFSB (Meredith Corporation). All rights reserved.