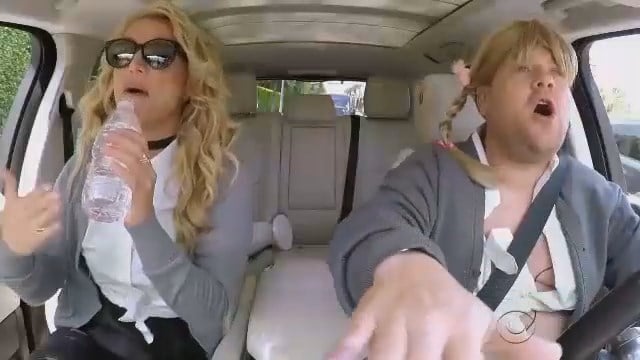 Britney Spears 'carpooled' with James Corden during a skit on The Late Late Show Thursday night. (CBS photo)
(WFSB) -
He's not that innocent.
Thursday night, Late Late Show host James Corden proved that when he "carpooled" with pop star Britney Spears through Los Angeles.
The skit aired Thursday night to plenty of fanfare.
Corden picked up Spears in his SUV and immediately asked what her iconic song, "Oops!..I Did It Again" was about.
She brushed it off as being "just a song." Corden, however, said it's how he feels when he orders a pizza from Domino's.
The two then launched into a medley of the singer's hits, including the aforementioned tune and her hit "Toxic."
Fans were delighted when the duo belted out the 1998 hit "Baby One More Time" complete with school uniforms and pigtails.
At the end, Corden plugged Spears' latest album, Glory.
For more James Corden videos, check out his YouTube channel here.
Copyright 2016 WFSB (Meredith Corporation). All rights reserved.