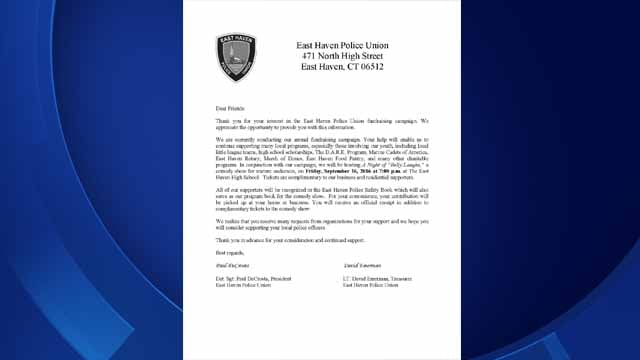 The East Haven Police Union sends this letter to residents for their annual comedy show. (East Haven PD)
WEST HAVEN, CT (WFSB) -
East Haven police are warning residents of scammers who are posing as police union fundraisers.
Officials received several complaints from citizens who said they received phone calls from people claiming to be representatives for the East Haven Police Unions.
The scammers claimed they were raising money for police officers in Chicago, the Special Olympics and disabled children.
Police said they have one annual car show fundraiser and one comedy show fundraiser.
They said that they are currently raising funds for their upcoming comedy show, but the calls described by residents were not made by them.
The police union's fundraiser organization, Global Marketing Resources, do not ask for donations during their phone calls.
The union also sends out letters for the comedy show.
Residents can contact the fundraiser at 860-235-3955 if they are unsure if they have been contacted by a scammer.
Copyright 2016 WFSB (Meredith Corporation). All rights reserved.