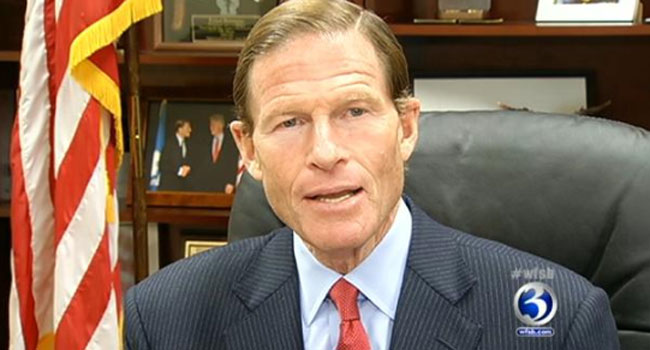 Sen. Richard Blumenthal (WFSB file photo)
HARTFORD, CT (WFSB) -
One of Connecticut's senators said he's calling for the creation of a national firefighter cancer registry to research firefighter cancer cases.
Sen. Richard Blumenthal said he's holding a news conference at 10 a.m. in Hartford to push for the voluntary database.
He said such a registry would advance and support critical research into firefighter health.
The push comes after a study from the Centers for Disease Control and Prevention found that firefighters had greater numbers of cancer diagnoses and cancer-related deaths. The CDC also said the chance of death increased with the amount of time spent at fires.
"Firefighters place their lives at risk every time they rush into a burning building, but it's not just the immediate threat of fire, smoke, extreme heat and collapsing structures," Blumenthal said. "Firefighters are a greater risk for contracting and dying from certain cancers, a risk that increases each time they respond to a fire. Our brave firefighters put their health and safety on the line to protect their communities. We owe it to them to investigate the full scope of risks they face so that we can develop safeguards and measures to protect their lives as they protect ours."
The bipartisan measure is called the Firefighter Cancer Registry Act. It would require the CDC to develop and maintain a voluntary database to monitor and collect firefighter cancer incidence data.
Blumenthal's news conference was set for the Engine 1/Ladder 6 fire house on Main Street in Hartford.
Copyright 2016 WFSB (Meredith Corporation). All rights reserved.