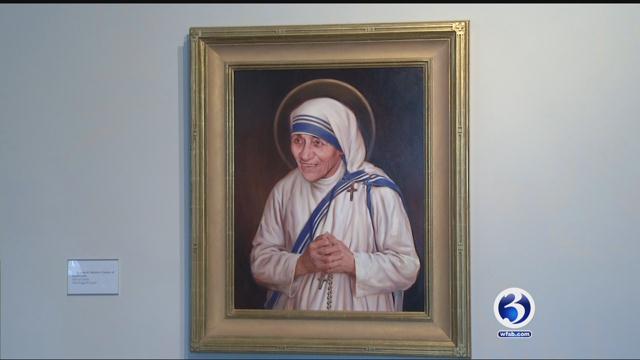 When Mother Theresa is declared a Saint in Rome Sunday, a New Haven painting will be front and center. (WFSB)
NEW HAVEN, CT (WFSB) -
When Mother Theresa is declared a Saint in Rome Sunday, a New Haven painting will be front and center.
The painting of the nun and Nobel Peace Prize winner was chosen by the Vatican as the official canonization image.
Painter Chaz Fagan was commissioned for the portrait.
Posters, prayer cards and a large printing of the painting will all be present during the canonization.
However, the original is at the Knights of Columbus Museum in New Haven.
"For the people of Connecticut to be able to come and see the original portrait that people will be looking at and paying tribute to on Sunday morning in St. Peter's square is a big thrill," said Peter Sonaski, who works for the museum.
The painting has received a range of visitors, including nuns from the Missionaries of Charity in Bridgeport.
Sister Anawim met the soon-to-be Saint in 1976.
"When I met her for the first time I was awestruck, but also surprised that this woman growing in fame was so humble and so simple," said Anawim.
Copyright 2016 WFSB (Meredith Corporation). All rights reserved.