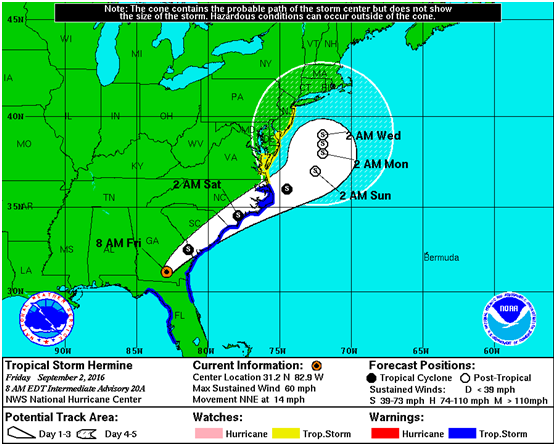 BRIDGEPORT, CT (WFSB) -
In a release put out Saturday morning, Bridgeport city officials are reminding residents of the Park City to be vigilant and monitor updates for Tropical Storm Hermine.
Crews at the Bridgeport Emergency Operations Center will continue to track Hermine as she makes her way up the Atlantic coastline.
Despite some uncertainty in the track, officials are asking people to prepare now just in case.
Residents are reminded to have batteries for flashlights, non-perishable foods and a battery operated radio on hand in case of an extended power outage.
In addition, those who live in low-lying, flood prone or poor drainage areas should begin making arrangements to safeguard their vehicles and property in the event of flash flooding.
Preparation tips can be found the city's Emergency Management page here.
Officials said updates will continue to be posted as needed throughout the weekend on their website and social media pages. Anyone with additional questions or concerns surrounding the storm or preparation can contact the EOC at 203-579-3829.
Copyright 2016 WFSB (Meredith Corporation). All rights reserved.