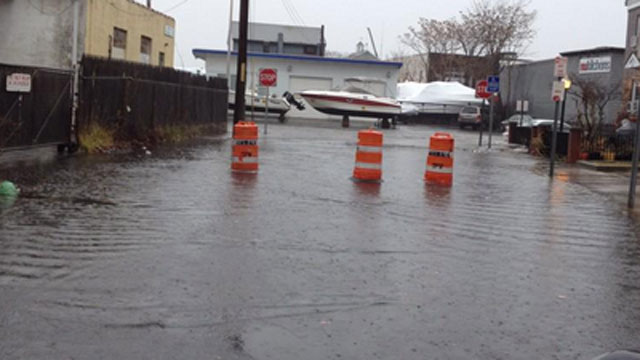 Shoreline town Norwalk sustained heavy flooding during Hurricane Sandy. (WFSB file photo)
NORWALK, CT (WFSB) -
Authorities along the shoreline offered safety tips on Saturday in preparation for Tropical Storm Hermine.
If residents live in an area that was flooded during Superstorm Sandy or Hurricane Irene, town officials advised them to make sure everything outside is secure, especially grills, propane tanks or spare propane tanks. Residents, who are not in flood-prone areas, are warned to gather several days worth of adequate supplies in case of loss of power and water.
Authorities released these tips on how to prepare for the possible impact:
Prepare your evacuation plan, including pets, transportation routes and destinations.
Keep all trees and shrubs well trimmed and clear loose and clogged rain gutters and downspouts.
Stay informed! Listen to a NOAA weather radio or check local forecasts and news reports regularly.
Bring in all outside furniture, decorations, garbage cans, etc.
Turn off propane tanks.
Fill the bathtub or buckets with water to use for cleaning and flushing toilets, if directed to do so.
Keep your gas tank at least 3/4 full at all times.
Keep cell phones and other mobile devices charged. Remember, text messages can often go even if cell phone calls can't.
Keep your emergency supplies kit, including water, and copies of important documents, in a waterproof, portable container, in an easily accessible location.
If your basement may flood, move items off the floor and check sump pumps to ensure they're functioning properly.
For additional safety tips, visit www.ready.gov or http://www.flash.org/hurricanestrong/
Clear clogged rain gutters to allow water to flow away from the home.
"We expect a prolonged period of sustained winds which will affect coastal flooding. Although not as severe as parts of NY, we will need to keep a careful watch as the high tides progress," said Michele DeLuca, emergency director for the Norwalk Fire Department.
Homeowners can prepare for flooding by elevating items in the basement, checking sump pumps and clearing nearby catch basins.
For more tips, visit this website.
Copyright 2016 WFSB (Meredith Corporation). All rights reserved.