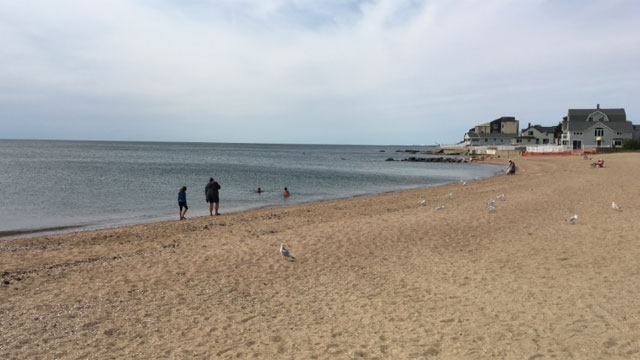 East Haven beaches remain open on Monday. (WFSB)
EAST HAVEN, CT (WFSB) -
Swimmers were being discouraged from jumping in the water on Monday, even though the beaches were open on Labor Day in East Haven.
Hermine was moving more northeast on Monday, impacting the Connecticut coastline with wind, large swells, and minor flooding. A Tropical Storm Warning is in effect for Southern Middlesex, Southern New Haven and Southern New London counties.
The Mayor's office and the Emergency Services Department in East Haven continued to monitor the storm and said they "remain ready in the event the storm makes any significant changes" close to the Connecticut shoreline.
The East Haven mayor's office advised swimmers to be aware that "significant rip currents are possible" on Monday.
The winds from Post Tropical Storm Hermine will get stronger on Monday. Off shore winds could push waters into Long Island Sound.
High tides in East Haven are expected 12:45 p.m. to 3:15 p.m. on Monday and on Tuesday at 1 a.m. to 3 a.m. as well as 1:30 p.m. to 3:30 p.m.
The American Red Cross reminded people that if they ever get caught in a riptide, to stay calm and don't fight the current. Instead, swim parallel to shore and once you're free from the current, turn and swim directly to shore.
Also, experts warned swimmers not to swim within 100 feet of jetties and piers because rip currents are often found there.
Copyright 2016 WFSB (Meredith Corporation). All rights reserved