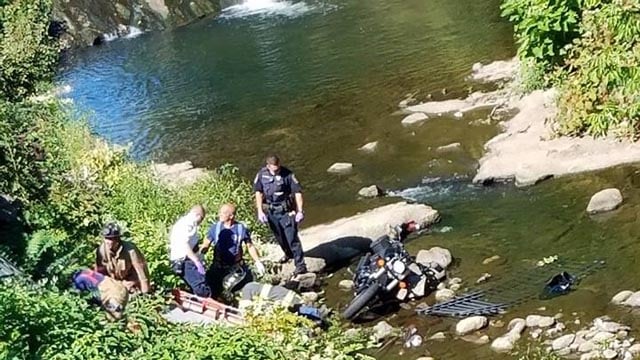 (iWitness photo)
BRISTOL, CT (WFSB) -
A serious crash in Bristol left a motorcycle in a river.
It happened late Monday morning in the area of 155 School St.
Police said a woman and her husband were riding separate motorcycles and traveling west on School Street.
The woman, identified as 51-year-old Marie Hoadley, made a right turn into a city parking lot at the corner of School and West Streets. However, she lost control and struck a curb and fence along the river bank.
Eyewitnesses posted photos to social medial that showed the motorcycle and emergency personnel down an embankment on the edge of a nearby river.
Police said it amounted to an 8 to 10 foot fall.
Hoadley did not suffer serious injuries as a result of the crash.
Police said their traffic division is looking into exactly how the crash happened.
Copyright 2016 WFSB (Meredith Corporation). All rights reserved.