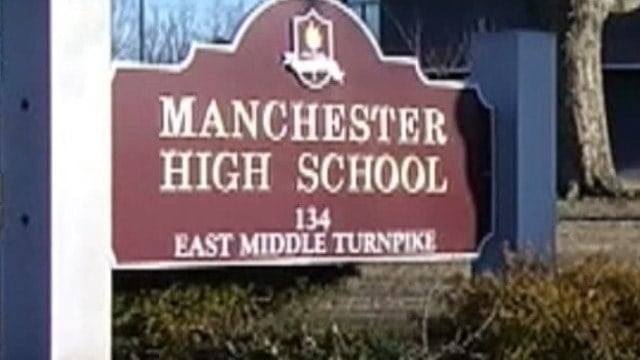 Manchester High School. (WFSB file photo)
MANCHESTER, CT (WFSB) -
There will be an increased police presence at Manchester High School Tuesday.
Principal Jill Krieger sent a statement to families on Monday after someone scrawled the phrase "I'm going to blow this place up Sept. 13 on Tuesday 2016" on a bathroom stall.
The message was spotted on Monday morning, and even though police said nobody is in danger, they will increase their presence at the school on Tuesday morning as a precaution.
"The Manchester police were immediately notified," Krieger wrote. "Videos have been reviewed and several people who used the bathroom have been interviewed. This is an ongoing investigation. As always, student and staff safety is our first priority. We would not have students or staff in the building if we believed that they were at risk. However, as a precaution, the Manchester Police department will also have an increased presence at the high school on Tuesday."
On Monday afternoon, students said the news about the threat is unsettling.
"It's a little crazy. I've heard a lot of threats over the years and I don't really think it's gonna happen but it is pretty scary," said student Steven Stanton.
Students said whomever is responsible for the message should own up to it so that everyone at the school can rest easy.
There's no word yet on any suspects.
Copyright 2016 WFSB (Meredith Corporation). All rights reserved.