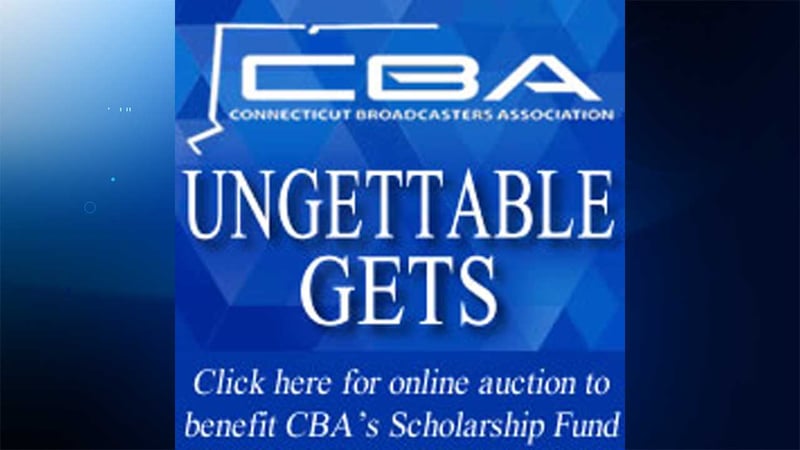 (CBA photo)
(WFSB) -
The Connecticut Broadcasters Association is looking to raise money for scholarships by holding an auction.
The CBA billed the "ungettable gets" event as "cool stuff for you, tuition money for them."
All proceeds from the online auction go to the CBA Scholarship Fund.
The scholarships are provided to Connecticut students who are pursuing careers in broadcasting, according to the CBA.
It said that since 1995, more than $700,000 has been distributed to dozens of qualified students.
The items up for grabs include:
Sit in on the Chaz & AJ Show and have breakfast afterwards at the studio.
Four tickets to the Better CT Show and a Ch. 3 station tour with Scot Haney.
Sit with WTIC's Joe D'Ambrosio during a UConn football game.
A behind-the-scenes tour at Fox 61, watch the morning news and meet the anchors after the show.
Be the Program Director for one hour on WNLC 98.7 (rock/classic hits).
Co-host the morning show on WCTY 97.7 (country).
A pair of tickets to both the Sat., Oct. 1st & Sun., Oct 2nd Red Sox vs. Blue Jays games.
Ryder Cup Golf Bag. Never used, limited edition bag that was made for the 2006 USA Ryder Cup team.
Two original Yankee Stadium Seats.
A Xander Bogaerts autographed baseball.
Signed JFK golf balls.
Two tickets to Live & In Concert: NBC's "The Voice" Coach Adam Levine & Maroon 5 at the XL Center.
Two tickets to the Live & In Concert: NBC's "The Voice" Coach Blake Shelton at the XL Center.
Two tickets to the Earth Wind & Fire Concert with Chicago at Mohegan Sun.
Four tickets to Mystic Aquarium.
Two tickets for the All-Star Christmas concert at Mohegan Sun.
Two tickets for Jersey Boys Live on Broadway.
An Apple Watch.
For more information and to bid on the items, head to this website.
Copyright 2016 WFSB (Meredith Corporation). All rights reserved.