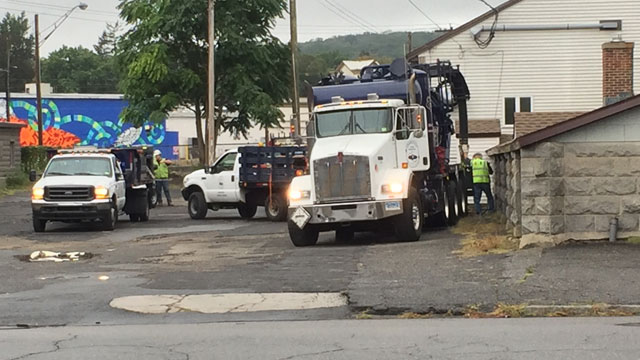 Crews are on the scene after an abandoned outside oil tank in Torrington overflowed into the Naugatuck River on Monday morning. (WFSB)
TORRINGTON, CT (WFSB) -
An abandoned outside oil tank in Torrington overflowed into the Naugatuck River on Monday morning.
Officials from the Connecticut Department of Energy and Environmental Protection said the oil tank, which was located at 34 Center St outside of the Order Sons of Italy Concordia Lodge 20, filled with water after a rain storm.
The rain caused the "water with remnants of heating oil" inside the tank to overflow and run into the nearby parking lot. Then, the solution flowed into "catch basins that discharge waters into the East Branch of the Naugatuck River," DEEP officials said.
An environmental contractor, which was hired by DEEP, is being used to contain the heating oil in the river. The crews will try "to recapture it and to prevent any more from getting into storm drain system."
DEEP said they have not seen any impacts "aquatic life at this point."
Copyright 2016 WFSB (Meredith Corporation). All rights reserved.