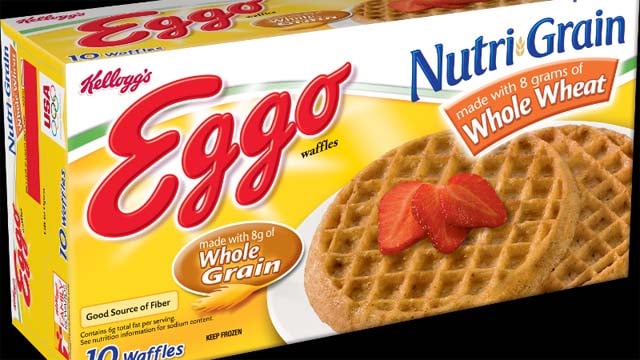 Kellogg's Eggo Nutri-Grain Whole Wheat Waffles (Kellogg's)
HARTFORD, CT (WFSB) -
Kellogg Company is recalling its Eggo Nutri-Grain Whole Wheat Waffles due to possible Listeria contamination.
The company said on Monday it is voluntarily recalling 10,000 cases of the Nutri-Grain® Whole Wheat Waffles. No other Eggo products are impacted by the recall.
"Listeria monocytogenes can cause serious and sometimes fatal infections in young children, frail or elderly people, and others with weakened immune systems," the company posted on its website.
The company said it has not received any reports of illness to date, but it is taking action "as part of its commitment to the health and safety of the people who eat its foods."
The recalled product was distributed to customers and retailers in 25 states, including Connecticut.
For more information on the product recalled, click here.
Kellogg is asking that people who purchased affected product discard it and contact the company for a full refund. Consumers can call 1-800-962-1413, Monday through Friday, 9 a.m. – 6 p.m. ET or by clicking here.
Copyright 2016 WFSB (Meredith Corporation). All rights reserved.