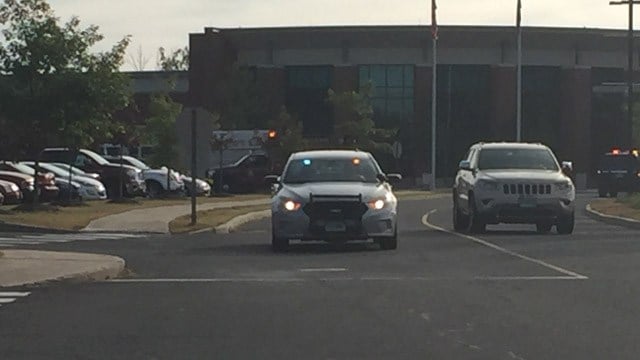 Tolland High School was evacuated on Wednesday morning due to a gas odor. (WFSB photo)
TOLLAND, CT (WFSB) -
Tolland High School was evacuated on Wednesday morning after the administration said the staff reported smelling what they thought was gas in the building.
As the kitchen staff entered the building, they told the administration that they thought they smelled gas.
Firefighters from both Tolland, Willington and the University of Connecticut along with a gas company were called to the school to investigate the source around 7:30 a.m. The Tolland fire marshal was also called the scene.
Power to the building was shut down.
Superintendent Walter Willett said students got off the bus and were moved to their evacuation locations. Willett said the evacuation of students and staff was "precautionary."
After checking the school, Willett said the building was found to be safe for the students to return around 8 a.m.
Willett said the staff will receive training, so they know how to recognize the smell of gas and know what to do in an emergency.
Copyright 2016 WFSB (Meredith Corporation). All rights reserved.