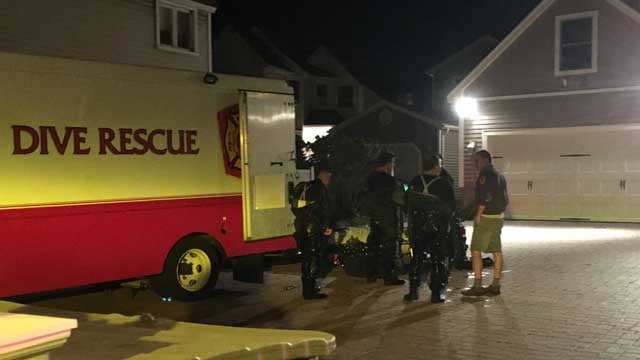 Dive crews responded to the water in Milford on Wednesday (WFSB)
MILFORD, CT (WFSB) -
A search for a missing boater in Long Island Sound in Milford went unfounded on Wednesday night.
Officials from the U.S. Coast Guard had said they were searching for a 99-year-old man who reportedly went overboard at about 4:15 p.m. on Wednesday.
However, they later learned the operator of the boat, who is a man in his 70s, suffered a medical condition, thinking his father had gone overboard.
Two kayakers saw an 18-foot boat anchored in the water, and when they went over to the boat, they saw the operator was looking for his 99-year-old father who fell overboard.
The boat was about 100 yards off the shore.
Milford police, fire crews, the Coast Guard and a helicopter were out searching the waters, however they determined nobody had gone missing in the water.
Officials spoke with the operator's family, who said his father has been deceased for many years and was not on the vessel as reported.
Copyright 2016 WFSB (Meredith Corporation). All rights reserved.