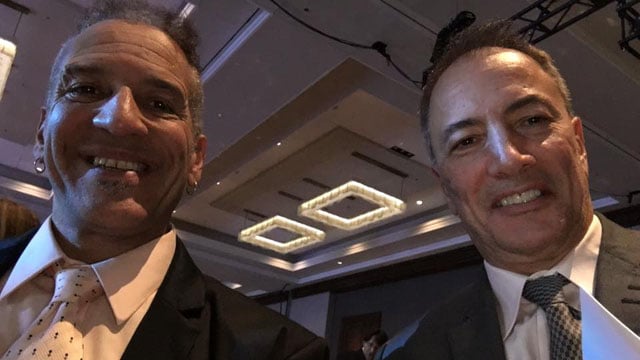 Chaz & AJ at the National Association of Broadcasters' Marconi Radio Awards. (Facebook photo)
MILFORD, CT (WFSB) -
If there's one thing Chaz & AJ are known for, it's their personalities.
Their Milford-based morning show, which is broadcast on 99.1 WPLR, 102.9 The Whale and 95.9 The Fox, took home the Medium Market Personality of the Year award from the National Association of Broadcasters.
The 2016 NAB Macaroni Radio Awards were announced Thursday night at a dinner in Nashville, TN.
Chaz & AJ's show, the workers of which are friends and partners of WFSB, was up against competition from Indiana, Ohio, Maine and Virginia.
For more on their morning show, check out chazandajinthemorning.com.
Copyright 2016 WFSB (Meredith Corporation). All rights reserved.