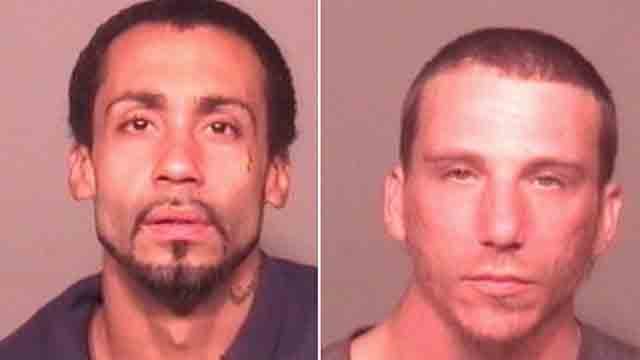 (Meriden police photo)
MERIDEN, CT (WFSB) -
Following the information received at a roll call on Sept. 26 of a suspect involved in a burglary at a home on Colony Street, Meriden police were assigned to the area the following day at about 1 a.m.
While surveying the home, the officer spotted two males trespassing on the property.
Refusing to stop when ordered, the officer began pursuit.
Unable to catch them, officers set up a perimeter around the entire area, forcing the suspects to go into hiding.
Following a sweep of the vicinity, the two suspects were later found on a fire escape on the corner of a building.
The suspects, Robert Rodriguez and James Scozzari, were both held on $15,000 bond and charged with, third-degree criminal attempt to commit burglary, first-degree criminal trespass, interfering with police.
The Meriden Police Department would also like to give special thanks to Officer Griffin and Sergeant Boothroyd, along with Officer Maikranz for the excellent police work.
Copyright 2016 WFSB (Meredith Corporation). All rights reserved.