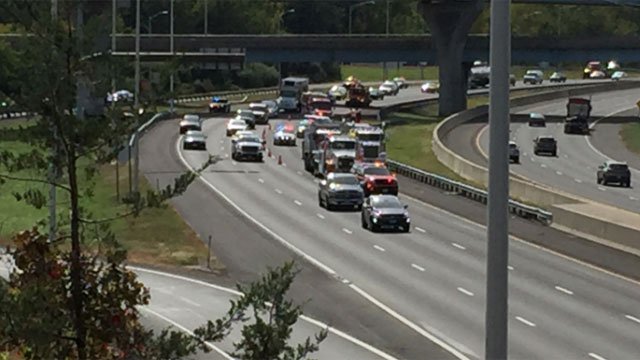 A motor vehicle crashed and caught fire on Interstate 84 in Southington on Thursday afternoon.  (WFSB)
SOUTHINGTON, CT (WFSB) -
A driver suffered "serious injuries" after a motor vehicle crash and fire on Interstate 84 in Southington on Thursday afternoon.
Police said 21-year-old Kyle Michael Anderson was driving his 2013 Subaru Legacy 2 on the eastbound side of I-84 near exit 28 around 12:30 p.m. Anderson "struck a reflective post," and then into a pole, police said.
However, the Subaru continued into the grass shoulder before police said the vehicle hit a metal beam guardrail. The impact from the crash launched the Subaru airborne and into a concrete bridge support column, police said.
Finally, the Subaru caught on fire after the crash. Police said a Good Samaritans pulled Anderson from the vehicle.
Anderson was rushed to St. Mary's Hospital, state police said.
The cause of the crash is under investigation. Anyone with any information about the crash is asked to call state police at 860-534-1000.
Copyright 2016 WFSB (Meredith Corporation). All rights reserved.