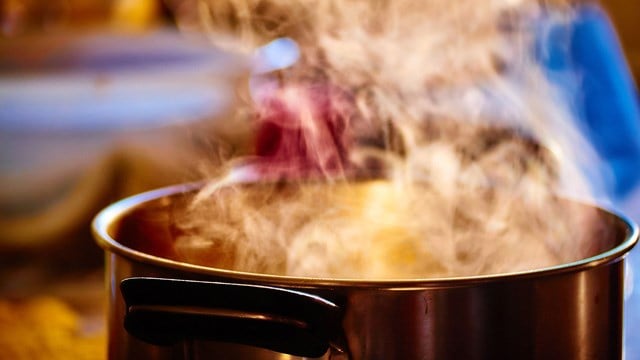 (wikimedia photo)
(WFSB) -
Here's a recipe for fall harvest vegetable risotto, as seen on Eyewitness News Sunday morning.
Ingredients:
6-8 cups chicken broth
½ cup white wine
1 tsp minced fresh thyme
4 oz parmegiano reggiano
12 oz rock shrimp
4 cups medium diced butternut squash
1 onion finely diced
4 cups quartered crimini mushrooms
1 ½ cups Arborio rice
1 cup olive oil
In a sauce pan, bring chicken stock to a boil then reduce to low heat. In a separate pan, toss mushrooms, butternut squash and olive oil and add salt and pepper to taste then roast at 400 degrees until squash is tender and mushrooms are well roasted (about 20 min). In a sauce pan over medium heat add butter and oil. Sauté onion until translucent (about 10 min). Add rice and stir for about 45-60 seconds. Stir in wine and cook until it is slightly reduced. Add 1 cup of chicken stock, stirring constantly, until all the liquid is absorbed. Continue to cook, adding stock 1 cup at a time, until rice is almost tender. Fold in rock shrimp and cook for an additional 5 minutes until shrimp is cooked. Fold in roasted squash, mushrooms and thyme. Remove from heat and add parm cheese. Distribute evenly into 4 bowls.
Crispy Parsnip Garnish
Peel outside skin of parsnip and discard the peelings. Peel around the parsnip by turning with each stroke (as if sharpening a pencil). When parsnip is peeled down to core, take the peelings and fry in fryer at 350 degrees for about 1 minute until golden brown and crispy. Place on top of risotto as a garnish.
Copyright 2016 WFSB (Meredith Corporation). All rights reserved.