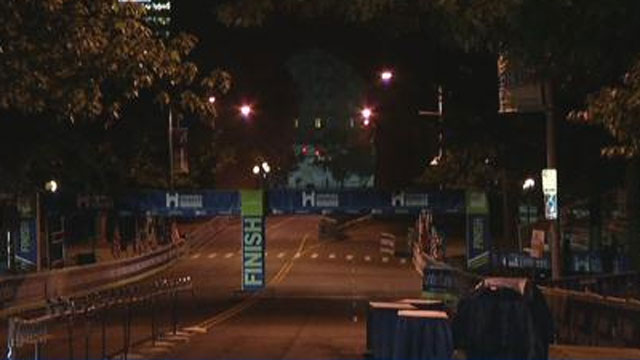 Crews and runners were preparing for Eversource Hartford Marathon. (WFSB)
HARTFORD, CT (WFSB) -
With about 24 hours to go, runners and the capital city were preparing for the Eversource Hartford Marathon.
With 65,000 people expected to descend upon the race route on Saturday, final preparations were underway on Friday morning.
Crews were starting to block off streets next to the State Capitol overnight to get things ready for the weekend event.
The 23rd annual Eversource Hartford Marathon includes the marathon, half marathon and 5K. The whole event was put together by the Hartford Marathon Foundation.
As many as 2,500 volunteers were expected to help make the race possible. Many of them have been out already this week at the site of the race. They were transforming Bushnell Park for one of the biggest spectator events in Hartford.
Stages were built and tents were set up.
Organizers said the marathon brings in about $14 million to Hartford. Hotels and restaurants benefit from the most from the race.
Several roads and exits in the Greater Hartford area will be closed due to the race. To get a complete list of the closures, click here.
Channel 3 is a proud sponsor of the Eversource Hartford Marathon. For our special section, click here.
Copyright 2016 WFSB (Meredith Corporation). All rights reserved