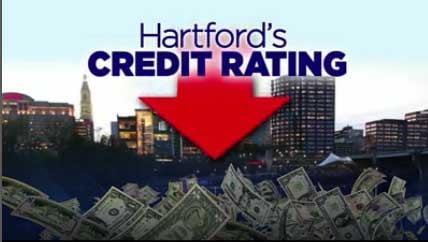 (WFSB)
HARTFORD, CT (WFSB) -
On the heels of Standard & Poor's downgrading Hartford's bond rating last month, Moody's Investors Service also announced that it downgraded the city's credit rating.
Moody's said it has downgraded the city's rating from Baa1 to Ba2.
"For many months, we've been shouting from the rooftops what Moody's independent assessment reinforces today, which is that the City of Hartford cannot cut or tax its way out of a fiscal crisis that's structural and has been decades in the making," said Hartford Mayor Luke Bronin in a press release. "With less taxable property than small suburbs like Glastonbury or Manchester, and with more than half of Hartford's property non-taxable, the fiscal structure is fundamentally broken."
In the report, the rating agency noted the following:
"We recognize that it has become increasingly unlikely that the city will be able to address its financial challenges on its own and, external assistance, either from the state or region will be needed."
"The city's tax base will remain challenged by modest growth, low wealth and income levels, and high unemployment […]."
"It is unclear how much more can be cut as the city has significantly reduced personnel (non-education) since 2000 with headcount down to 1,337 in fiscal 2017 from 1,964 in fiscal 2000. The fiscal 2017 budget alone eliminated 100 positions and had other departmental cuts."
"Revenues primarily consist of property taxes and state aid. While some development activity should provide for some tax base expansion, property tax revenue growth will be constrained by a very high tax rate […]."
"The city will be challenged to restore financial flexibility to achieve structural balance in the coming years due to rising expenditures and limited ability to grow revenues. One-time measures and nonrecurring revenues (including sales of land, use of reserves and debt refinancing) have been used to balance the city's budgets over the last several years and are not sustainable."
Standard & Poor issued its downgrade in September.
Copyright 2016 WFSB (Meredith Corporation). All rights reserved.