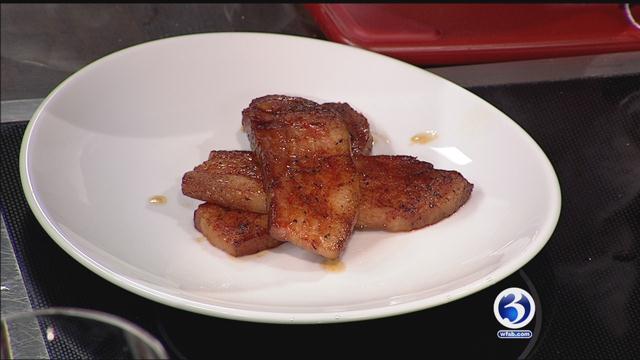 Chef Headley Wilson from Fleming's in West Hartford made maple-glazed bacon (WFSB)
WEST HARTFORD, CT (WFSB) -
Chef Headley Wilson from Fleming's in West Hartford came to Channel 3 studios and made maple-glazed bacon.
His visit was to promote the MS Happy Halloween Hour on Oct. 13 at the The Society Room of Hartford from 5:30 p.m. - 8:30 p.m. For more information about the event, call 860-913-2550 or click here.
Here's the full recipe on the maple-glazed bacon:
Ingredients
3 6 oz. slices of Smoked Bacon
1 oz. wt. Pickled red onions
1/8 tsp. Chopped parsley
3 ea. Orange Segments
1 cup pure maple syrup
1/4 cup bourbon Jim Beam
Instructions
For the Bourbon Maple Glaze, place syrup & bourbon in container and mix well. Set aside.
Place bacon on a baking sheet and top with Bourbon Maple Glaze.
Bake at 400° for 5-6 minutes. Remove from baking sheet and plate bacon by criss-crossing two slices on the bottom and laying one over the top.
Drizzle remainder of the Bourbon Maple Glaze from baking sheet over the top of the plated bacon.
Place pickled onions on the top of bacon and sprinkle with parsley. Garnish with oranges.
Copyright 2016 WFSB (Meredith Corporation). All rights reserved.