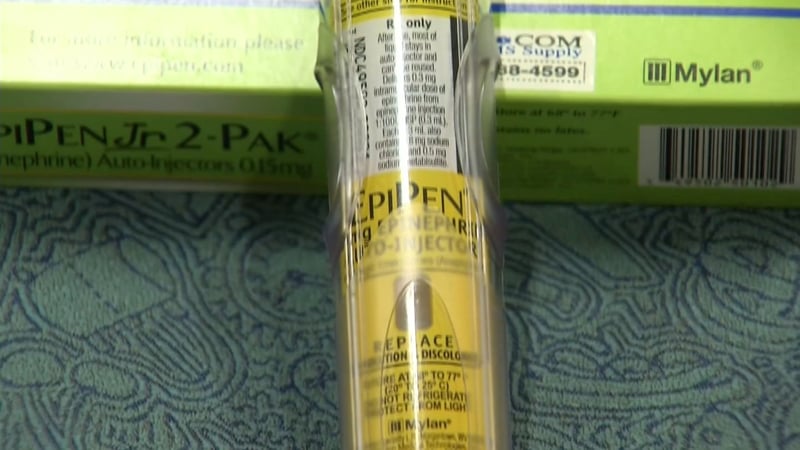 (WFSB photo)
HARTFORD, CT (WFSB) -
Sen. Richard Blumenthal urged the U.S. Department of Justice to reject a proposed $465 million settlement with Mylan over a misclassification of EpiPens.
At a news conference on Monday, Blumenthal said the victims of the settlement are not getting enough from it.
"The deal the justice system has reached with Mylan to settle these charges is way below what the harm to tax payers has been," Blumenthal said. "The harm to tax payers has been to $700 million or more as a result of insufficient rebates."
Blumenthal said the mis-classification led to hundreds of millions of dollars of overcharges to the Medicaid Drug Rebate Program. The pharmaceutical giant overcharged Connecticut's Medicaid program more than $1 million this year alone, he said.
Blumenthal said he is concerned that a settlement would undermine the investigation into Mylan's EpiPen dealings.
In a statement, the he said:
"This proposed agreement is a shadow of what it should be-lacking real accountability for Mylan's apparent lawbreaking. A settlement that lacks any acknowledgment of responsibility and requires payment smaller than profits made illegally at taxpayer expense is simply unacceptable. DOJ must fulfill its responsibility to fully and fairly investigate the facts, establish intent, and punish wrongdoing to deter present and future bad actors."
Tuesday's news conference was held at the Family Resource Center at Connecticut in Hartford at 11 a.m.
Copyright 2016 WFSB (Meredith Corporation). All rights reserved.