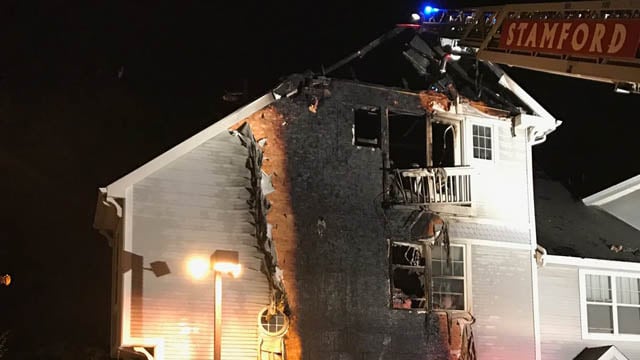 A fire burned two condo units in Stamford Wednesday night. (Stamford Fire Dept. photo)
STAMFORD, CT (WFSB) -
Two homes in a Stamford condominium complex burned late Wednesday night, according to firefighters.
Crews said they responded to the Waterside Green condos, which is located at 1 Southfield Ave., around 7:30 p.m. When firefighters arrived, they found fire shooting through the roof of the complex. They issued a third alarm "were required in order to bring an adequate number of resources to the scene," according to Stamford acting Deputy Chief Captain Matthew Palmer.
Officials said the fire was "rapidly spreading" involving three floors and attic, Palmer said. However, firefighters said they were able to contain the fire to two units within an hour, Palmer added.
There were no reports of injuries.
The American Red Cross was said to be helping the people who lived in the two homes.
Investigators with the Stamford Fire Marshal's Office are looking for a cause. Stamford Emergency Medical Services and the Stamford Police Department also assisted in the investigation.
Copyright 2016 WFSB (Meredith Corporation). All rights reserved.