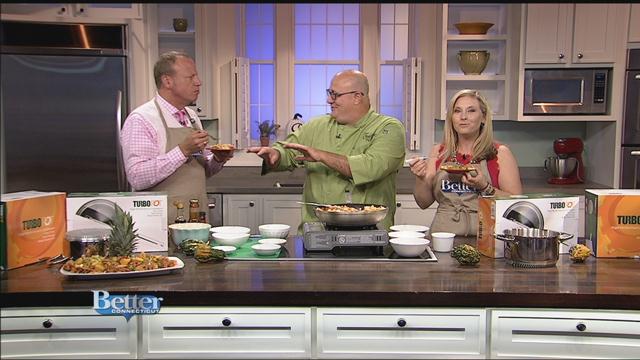 Hawaiian Kimchee Fried Rice
Recipe by Chef Roc ®
Ingredients:
Yields 4 portions
2 tablespoons olive oil
4 cloves minced garlic
1 tablespoon minced ginger
1 cup diced Portuguese sausage/or Spam
1/2 cup diced carrots
1/4 cups of cooked peas
1/2 cup diced fresh pineapple
2 cooked and diced scrambled egg
4 cups cooked rice
1/2 cup diced Korean Kimchee
1/2 cup soy sauce
2 tablespoons hoisin sauce
1 tablespoon oyster sauce
2 tablespoons sliced green onion
Instructions:
1. Heat oil in a large TurboPot saute pan or wok over medium high heat and add garlic and ginger. Cook for 30 seconds
2. Add sausage, carrots, peas and pineapple, eggs and cook for 3 minutes.
3. Add rice and Kimchee, cook for 2 minutes or until rice is hot.
4. Add soy sauce, hoisin and oyster sauce.
5. Finish with green onions and serve.