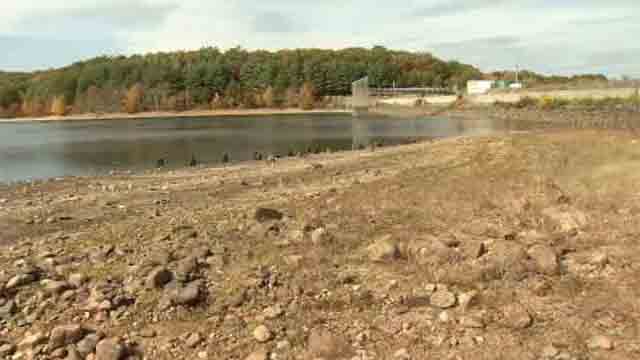 The Norwich Public Utilities Reservoir is so low that the company has asked customers to conserve water (WFSB)
NORWICH, CT (WFSB) -
The lack of rain forced Norwich Public Utilities to ask customers to voluntarily cut back water usage by 10 percent.
If it doesn't rain soon, the utility company said they'll have to impose mandatory restrictions.
Norwich Public Utilities said they have enough water for about 200 days.
Norwich Public Utilities Reservoir in Lebanon was 60 percent full and dropping. No one has ever seen it this low in 30 years.
On Thursday night, they're asking customers to cut back about 10 percent that's about 10 gallons less per day. If the average household uses 70 gallons, that's about seven gallons of water.
"Take a shorter shower. Do a full load of laundry…maybe fewer," Chris Riley with Norwich Public Utilities said.
"I make sure my laundry is full my dishwasher is full before I start it I try to save," said Gillian Maurer, a Norwich Public Utilities customer.
Norwich Public Utilities said they are hoping the forecast will improve and the rains will come. Otherwise, if reservoirs continue to drop they'll mandate water restrictions.
Copyright 2016 WFSB (Meredith Corporation). All rights reserved.