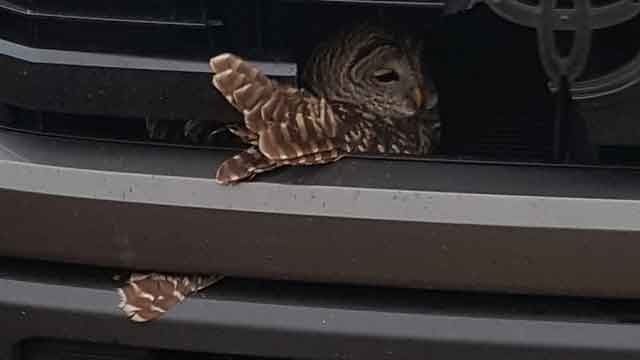 This owl was rescued by Groton Animal Control. (Steve Martin)
GROTON, CT (WFSB) -
An owl is recovering after getting stuck in the grill of a truck traveling from Willimantic to Groton on Thursday.
Steve Martin noticed something was wrong with his truck when he got to Groton on Thursday. After spotting the bird of prey, he immediately called the Groton animal control who came and took the owl to safety.
After receiving some help from the Groton animal control, the barred owl was taken to the Denison Pequotsepos nature center in Mystic. Officials at the Nature Center said they didn't see any obvious, major injuries on the bird. and expect it to recover.
"The first 24 hours really can be quite critical," Maggie Jones, who is the executive director of nature center, said. "There could be something that is not quite obvious to us."
Officials at the Nature Center said they'll keep the owl overnight for observation and if all goes well, it could be released as early as Saturday.
Copyright 2016 WFSB (Meredith Corporation). All rights reserved.