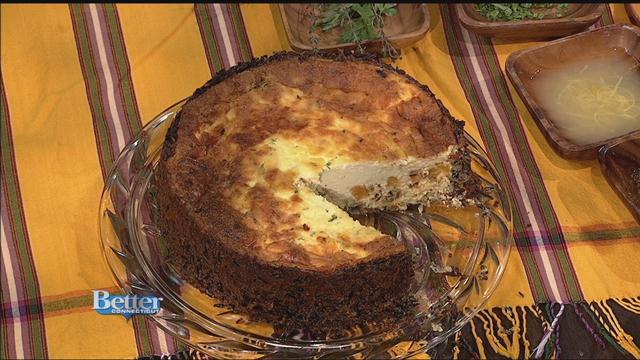 Cake for breakfast? Yes, please. Trust us, you're going to want to make this.
Wild Rice Squash & Goats Cheese Cake
Savory Custard Filling
Ingredients:
4 whole eggs
1 ½ cup heavy cream
1T herbs (as above)
*Wisk all ingredients together in bowl*
pinch of salt and pepper
2 medium leeks or 1 large onion, diced
2T butter
4 cups roasted and peeled winter squash
8 oz fresh goats cheese
Directions:
Melt the butter and cook leeks or onions to soften.
Layer the leeks into the wild rice crust
Next place the squash and goats cheese evenly
Pour the custard mix over the vegetables and cheese
Return to oven and bake for 50-60 minutes, until set.
Remove from oven and let it rest for at least 30 minutes.
Serve with salad or glazed brussel sprouts and pears
*This can be made ahead and reheated*
Copyright 2016 WFSB (Meredith Corporation). All rights reserved.