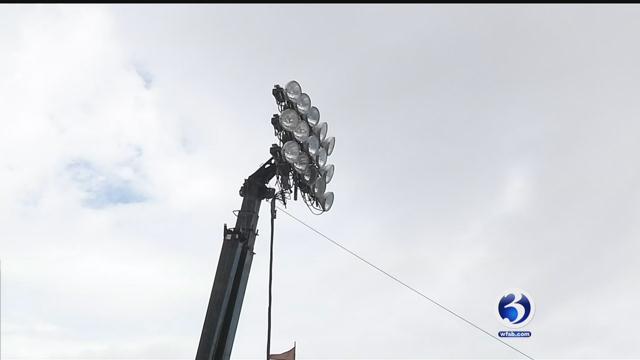 Bulldog fans gathered early for the historic night game at the Yale Bowl on Friday night. (WFSB)
NEW HAVEN, CT (WFSB) -
The Yale University Bulldogs take on the University of Pennsylvania Quakers on Friday night under the lights at the Yale Bowl.
The night game at the Yale Bowl was rare because the historic stadium doesn't have lights.
The rare night time football game at Yale Bowl will start at 7 p.m. That gives the tailgaters plenty of time to enjoy their pre-game festivities before the lights come on.
Last November, lights were brought in for the fourth quarter of a game with Harvard. That was broadcast because the sun was down at 4 p.m.
"It's a great thing for us to showcase the first in 102 years this famous venue. This is a mecca of sports outdoor sports in America for the first 50 years that it opened," Yale Facilities Manager Steve Conn said. "It was the place to have everything, everything."
Even the tailgaters told Eyewitness News they were excited to be witness a lit game at the Yale Bowl.
"We're looking forward to it," Robert Lewis said. "We're here every week that they're playing and it's probably going to be great."
Lewis was at the November game against Harvard.
"It was really amazing how the Bowl looked when Lit up as it got darker," Lewis said. "It was very exciting."
Copyright 2016 WFSB (Meredith Corporation). All rights reserved.