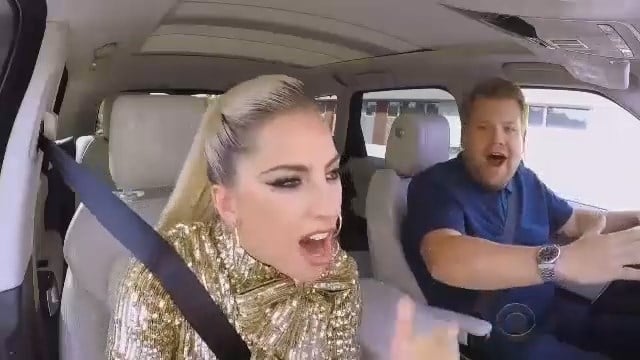 Lady Gaga and James Corden in Tuesday night's Carpool Karaoke segment. (CBS photo)
(CNN) -
James Corden is clearly one of Lady Gaga's Little Monsters.
Gaga hopped in Corden's passenger seat for the latest installment of "Carpool Karaoke" on The Late Late Show with James Corden, which aired Tuesday night, and the two rocked out to several of Gaga's hits including "Bad Romance."
Gaga proved her pipes aren't just for the stage. Dressed in a gold glittery ensemble, Gaga tried to help clear traffic for Corden by rolling down her window down and yelling at traffic to "move!"
This launched them into a duet of Ludacris' 2002 hit, "Move B**ch."
Gaga, who is set to perform at the 2017 Super Bowl halftime show, also hilariously reenacted the moment she learned she was chosen for the coveted gig.
The Late Late Show airs on CBS at 12:37 a.m.
TM & © 2016 Cable News Network, Inc., a Time Warner Company. All rights reserved.