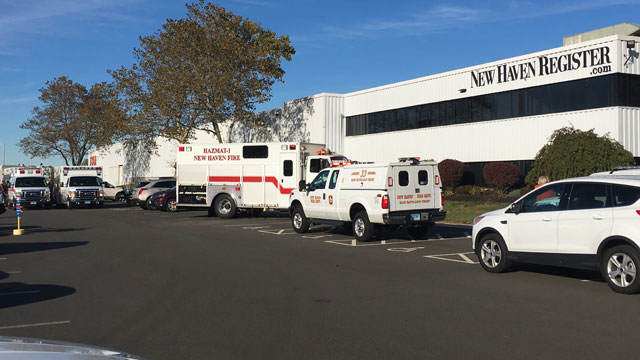 Police, firefighters and ambulances were at the New Haven Register following discovery of suspicious powder. (WFSB)
NEW HAVEN, CT (WFSB) -
The New Haven Register newsroom was evacuated on Wednesday after a suspicious white powder was found.
New Haven police and fire crews, the Department of Energy and Environmental Protection, and the FBI responded to the scene at about 2:30 p.m.
A letter with a suspicious white powder was opened on the first floor of the building. That's where the Register's business department is.
Employees were evacuated, but two people were quarantined in the building and had to wait for emergency crews to go in and get them.
Those two people who were quarantined were taken to the hospital for evaluation.
Hazmat crews geared up from head to toe and went inside the building to investigate the letter and the substance.
It is unclear at this time what the powder is.
The building is located on Gando Drive in New Haven.
Stay updated with Eyewitness News as more information becomes available.
Copyright 2016 WFSB (Meredith Corporation). All rights reserved.